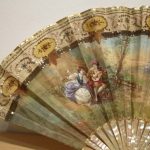 Often the antique hand fans are subjected to great mechanical stress which, due to their functional nature and the fragility of their materials, end up generating serious structural damages.
The repair or restoration of an antique hand fan, has the purpose of restoring its physical and aesthetic or artistic characteristics, getting as close as possible to its original condition.
Examples of hand fan restoration and repair
Fan hand made of mother-of-pearl and tulle leaf decorated with watercolor and embroidery drawings
Paper hand fan restoration
Fabric hand fan and tulle with bone sticks
Silk hand fan with mother-of-pearl sticks
Paper fan - broken paper joints
In Eulàlia Restauradora we are specialists in the restoration of hand fans of all types and ages. Folding or fixed fans, Elizabethan, made of fabric, paper, silk or tulle leaf or with bone, mother-of-pearl or metallic sticks, etc. Contact me and ask for a quote without obligation!