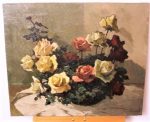 Other Restaurations many times pieces of different materials arrive and in order to carry out a restoration work, it is very important that a conservator and restorer has knowledge of different techniques to know how to apply them to each of the pieces. Each piece is analysed and the process needed to make it as original as possible is carried out.
Examples of restoration and repair of other parts
Reparation and Restoration and cleaning of a sewing machine
Antique  sewing machine however this piece was very dirty due to the passage of time. The sewing machine did not have a stand at the base. The restoration consisted first of all of a mechanical cleaning and in certain places of alcoholic products to be able to extract the layer of grease. To make the machine as stable as possible, a box was made.
Recovery and Restoration of a watch face
White porcelain dial of a watch. Due to certain blows, some loss of the porcelain has appeared. The restoration has firstly consisted of a volumetric reconstruction of the missing parts as to look for the same white colour.
Repair and Restoration of a painting with loss of the pictorial layer
The painting showed losses in the pictorial layer, that is to say that the preparation layer had lost some adherence especially to temperature changes that have accentuated its ailment as a result leading to the cracking and falling of the pictorial layer.
The restoration consisted first of all of an adherence treatment on the pictorial layer. In the gaps, a stucco has been made, establishing at the same level as the rest of the preparation layer the reintegration of the missing areas with a totally illusionist criterion.
Reconstruction and Restoration of cardboard toys
The Elephant and large horse made of papier-mâché. It had a layer of white paint in some areas and above all some loss of material in the legs and ears as a result of the passage of time. They have been restored, firstly a volumetric reintegration has been carried out in the areas where material was missing and an attempt has been made to recover the original colour of the animals.
Renovation and Restoration of an old metal box
The Metal Box had certain oxidized areas and losses of the metal stamping as a result of the passage of time. The restoration consisted first of all in cleaning and mechanically removing the oxidised areas, then a protective layer was applied as a final finish.
All works are carried out with meticulousness and according to the experience of more than 12 years in the sector of metal and antique restoration.
The pieces that enter the workshop undergo a process of repair and restoration with the aim of returning the piece to its original beauty.
If you need to restore or repair any object, please contact me for a personalized estimate.