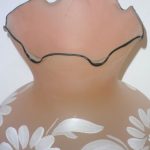 Importantly, The Restoration of Glass and Crystal can vary depending on the pathology or damage that the object may present. From a simple cleaning to the adhesion of broken fragments, to the reintegration or reconstruction of new material for losses of original material.
This is to say, that the materials used in the restoration of glass objects must comply with stability requirements in order not to compromise the original piece. Above all they must also meet optical requirements because most glass pieces are translucent (i.e. can see through the material). Generally, this means that the materials used in the repair of the object must also be translucent.
Examples Restoration Glass and Crystal
Restoration Swarowski crystal
Repair and Restoration of a Murano glass goblet
Reconstruction and Restoration of an ocher-colored opaline vase
Restoration of a Roman archaeological glass container
For example, the initial state of this container had some concretion and some flaking of the glass.
On the other hand, the final state was a Reunification of all the fragments and in the gaps or loss of pieces a reconstruction of resin has been carried out, pigmenting it of the original color to unify the piece.
At Eulàlia Restauradora we have extensive experience in the restoration and repair of glass objects, Murano glass and Waterford glass, as well as stained glass windows, lamps and crystal glasses. Contact me for a personalised quote.