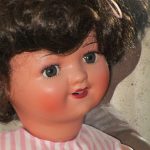 Dolls are for playing, displaying and collecting, but even with the greatest care they can be damaged. We have the experience, knowledge and delicate hands required to repair your doll to its original splendor.
We are a full service care center that specializes in a wide range of doll repairs of all types, from old to modern. We provide a variety of services, from basic cleaning and stringing, to extensive reconstruction and restoration of porcelain and composite dolls.
Examples of restoration and repair of old dolls
Restoration of papier-mâché doll Mariquita Pérez
Celluloid doll restoration
Biscuit doll head restoration
My experience includes the repair and restoration of old and modern dolls, including biscuit dolls, composition, plastic, vinyl, wood and paper mache. Our services include eye repair, tooth replacement, wig styling or renovation, cleaning or replacement parts. We have a huge inventory of doll parts, if the original doll part is missing or so damaged that it cannot be repaired. Contact me and ask for a free quote.
Each doll is evaluated and then repaired, using the skills acquired over nearly two decades of training and experience.
Restore
Whether it's repainting, sewing, restraining or cleaning, we know that not every doll needs a major repair to return to its former glory. She is dedicated to even the simplest of jobs to restore a doll's beauty and the memories that belong to it.
Repair
I have extensive experience in repairing dolls in many styles, including porcelain, composite, wood, metal and vinyl, along with many other varieties. From large cracks to small tears, she is able to restore your doll to the original beauty you remember.
CUSTOMIZATION
Whether you are looking for that special gift for a loved one or simply enjoy the art and craftsmanship of a master doll maker, Teresa has made hundreds of custom dolls perfectly suited to your needs.
The Doll Hospital is the perfect place to bring your beloved dolls of yesteryear. Let us clean, repair and return them to you ready for more hugs! Share your love for your favorite toy with your loved ones and watch young faces light up as they see their sweet dolls as you once did.
Doll repair and restoration made with love. I restore antique and vintage dolls and I am a certified doll doctor and licensed. I also do repairs on new dolls like the American Doll. Resizing, repainting, new wigs, eyes, clothing, etc. Please email me a photo if possible of your doll and I will contact you. Call if you prefer. Thank you and I look forward to hearing from you.
We repair dolls of all types, including: fabric, leather, paper mache, wood, composition, hard plastic and vinyl.
Our goal is not to make an antique look new, but to restore damage while preserving as much of the original as possible. Such a restoration should appreciate, rather than depreciate, the value.
The skills of a Doll Doctor include repairing and/or restoring the doll to its former beauty while maintaining its integrity. I believe this can be accomplished by paying close attention to the details of the doll's original appearance and making small repairs as necessary. Many of the older dolls just need to be refreshed or may need to be fully restored to live for many more generations. It may be possible to make a small repair by leaving the larger area around the original repair intact.
Familiarize yourself with the doll doctor's qualifications, ask for a reference, and get a signed contract. The professional wrist doctor will appreciate your questions and concerns about restoring your wrist.