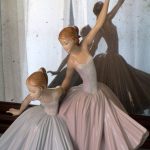 The Restoration Porcelain and china are a vitreous material and therefore extremely fragile. Due to its fragility, art objects made of porcelain often need restorations or repairs throughout their life.
The most common damages suffered by porcelain pieces are the breakage of parts, volumetric reconstructions of missing parts or pieces as well as the loss of originality due to later modifications.
Examples of Restoration of Porcelain Figures
Lladró brand Porcelain of the Lying Clown
Restoration Porcelain for a couple of Ballerinas from the Lladró brand
Restoration of a Rosenthal dish from the Christmas collection
Large Chinese porcelain vase
Reconstruction and Restoration of porcelain by the Lladró Pharmacist
Restoration of a Lladró figure called the Pharmacist. The piece had certain breaks due to a fall. The broken pieces have been unified, reinforcing the internal parts. A volumetric reconstruction has been carried out to conceal cracks and small porcelain leaks. The same colors were sought as the brightness.
Porcelain La Ofrenda de la Paz by Lladró
Restoration of a foot of a porcelain vase
The modernist style center
All the works are carried out with meticulousness and according to the experience of more than 12 years in the sector of the restoration of ceramics and antiques.
The pieces that enter the workshop undergo a process of repair and restoration with the aim of returning the piece to its original beauty.
If you need to restore or repair a porcelain object or piece, contact me for a personalized estimate.